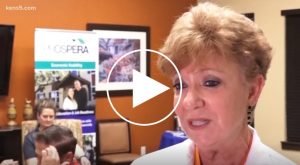 In mid-July, Superior HealthPlan and UT Health San Antonio-School of Nursing provided well-child checkups for patients from birth to age 21 at Prospera's Oak Manor Apartments. Blood pressure, vision and hearing screenings were included in the checkups. "Superior is proud to join UT Health San Antonio to offer high-quality health care to uninsured and underserved populations across San Antonio," said Susan Mills, senior vice president of quality improvement at Superior HealthPlan. "We believe this mobile clinic improves access to services needed for healthier families and communities, and we look forward to our continued partnership on this important initiative." Scott Ackerson, executive vice president of strategic partnerships at Prospera, added, "The relationship between housing and improved population health is well documented in literature. Prospera is pleased to partner with Superior HealthPlan and UT Health San Antonio in this endeavor. By having the UT Health San Antonio mobile health unit brought directly to their homes, our residents, who struggle with transportation costs and mobility concerns, can still get their health care needs met regularly."
Having access to affordable health care, safe and affordable housing, a quality education, healthy foods and community resources are all factors called "social determinants of health" that can lead to good public health. Lacking these resources through poverty, by living in rural areas where resources are scarce or by experiencing a natural disaster can disrupt or limit potential and life success.
Since January 2019, the mobile unit has visited several Prospera properties in San Antonio to provide care to Superior HealthPlan pediatric patients.