One of the many support services Prospera Housing Community Services provides its youth and adult residents is the opportunity to participate in multicultural events, such as the César E. Chávez and Martin Luther King Jr. marches.
For youth residents, participation is especially important because it helps them see the beauty in diversity and brings about more tolerant and accepting individuals, Director of Residents Services Shemeka Woodson said.
"We are a product of our experiences," Shemeka said. "Those experiences show our youth residents a world that is more tolerant, and we are molding them to be more tolerant and accepting of others."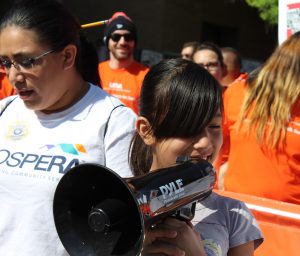 For some youth residents, César E. Chávez and the role he played in history was a story they had never heard, but the importance of his life was not lost on them.
"He was brave," Barawakha Abdi said. "He stood up for workers all over."
Mana Hussein said it's important to honor people like Chávez because "they sacrificed for us."
Along with learning about Chávez, some of the children were learning a little Spanish for the first time, shouting "sí se puede" with an estimated crowd of more than 14,000 people.
Regional Services Manager Rosa Loera believes multicultural events offer a glimpse at a more diverse future.
"These events make our kids more opened minded," she said. "It will help them in the future when they go out into the world."
"Participating makes us less divided, and for the kids it makes diversity a normality." Zachary Mendoza, West Durango Plaza Apartments services manager, said.
For more than 3 miles, the children shouted Chávez's message of equality and unity, a message Shemeka said can be found in Prospera's Support Services.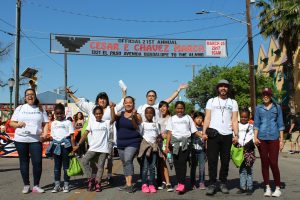 "Promoting equality is essentially what our services are promoting," Shemeka said. "It is providing a help up not a hand out for people to obtain the same resources and opportunities that other folks have.
"Our services are bridging that gap," she said.
Prospera Support Services provide a range of services including home management; income, budget and budget status; food security and nutrition; health and mental health; youth and adult education programs; and transportation.