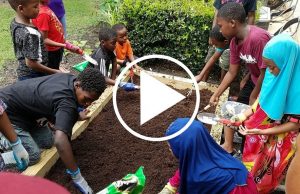 In late June, Prospera youth residents participating in the Bexar County 4-H Club at Oak Manor Apartments did an official ribbon cutting ceremony on their newly built raised garden beds. Back in March of this year, the resident club members began the early stages of their garden during a 4-H Club meeting where they discussed the food growing cycle.  "Our youth residents of the 4-H Club at Oak Manor Apartments were introduced to agriculture with basic items such as tin cans, soil and seed packets of corn, watermelon, cilantro and sunflowers along with two water pitchers. They would stop into the community learning center everyday asking to water their plants. They also took time to check on the plants during the weekends, holiday breaks, and whenever they could," said Christen Branch, Oak Manor Resident Services Manager.
The 4-H Club representatives visited often and provided tips as to how to give additional care to the plants, the youth residents would take what they learned and apply it accordingly. "Most of the youth residents in the program have never been exposed to a garden before and they are amazed when they see change, growth, and development of their plants." As they wait for the corn and watermelon to harvest, the youth residents are also excited about the new 'raised garden' where they have planted bell peppers, tomatoes, & peppermint.  "We eagerly await the time to pick the produce from the garden and bring to the table where they can enjoy the 'fruits' of their labor." 
Texas Agrilife Extension provides a variety of programming to 28 Prospera properties across South Texas.
Read more about the 4-H Club at Oak Manor here.