Dr Pepper Snapple Group's Let's Play Initiative Hosts Playground Build to Improve San Antonio Kids' Lives with Play
San Antonio, TX – More than 200 volunteers joined forces on Wednesday, June 15, to provide deserving local kids a safe place to play by building a new playground from the ground up at West
Avenue Apartments, a property owned by TG 303, Inc. affiliated with San Antonio based nonprofit, affordable housing organization, Prospera Housing Community Services (Prospera HCS).
The playground build was made possible by Let's Play, an initiative by Dr Pepper Snapple Group (DPS) to provide kids and families with the tools, places and inspiration to make active play a daily priority, and its nonprofit partner KaBOOM!
"By prioritizing play, we are giving kids the joyful childhood they deserve and are setting the stage for happier and more productive adults," states KaBOOM! Project Manager, Katie Applebaum.
Play is essential to children's development, but research shows kids are becoming less active and not getting the activity they need. According to research from the CDC, healthy lifestyle habits formed through play can lower the risk of obesity and its associated health issues.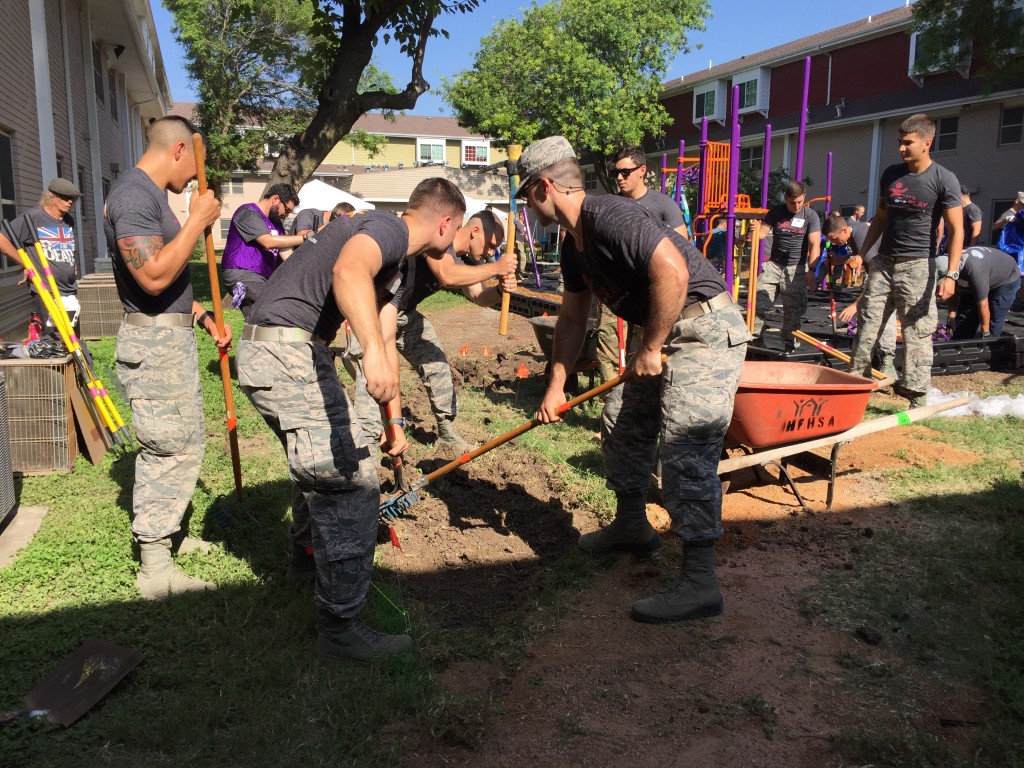 Volunteers included individuals from churches, businesses, community members and military from the 350th Battlefield Airmen Training Squadron. "Today's generation needs a push in the right direction that will show them there is stuff in our community just as important as the military," Sergeant Curtis Krenzke shared.
The daylong event began with a kick-off ceremony that led to the playgrounds construction and ended with a ribbon-cutting ceremony to celebrate the newly erected playground and making more play possible for local San Antonio kids.
ABOUT LET'S PLAY: Let's Play is an initiative launched in 2011 by Dr Pepper Snapple Group to provide the tools, places and inspiration to make play a daily priority. By 2017, DPS will provide nearly 10 million children across North America with new opportunities to play and be active through Let's Play. In partnership with the nonprofit organizations KaBOOM! and Good Sports, Let's Play is working to eliminate the 'play deficit' by building and improving play spaces and providing grants for athletic equipment and gear. For more information, please visit LetsPlay.com or Facebook.com/LetsPlay.
About Prospera Housing Community Services & TG 303, Inc.: Prospera HCS, formerly known as Housing and Community Services, Inc., assists families achieve social and economic stability by providing affordable housing, community support and education. Prospera HCS is an experienced organization, building and operating supportive housing in South Texas, while empowering families for nearly 25 years. They are a non-governmental, community-based 501(c)(3) Texas nonprofit housing provider established in 1993 that owns and/or operates 50 properties throughout Texas. For more information, visit www.prosperahcs.org. TG 303, Inc. a Texas non-profit housing provider, is an affiliate of Prospera HCS that operates in Corpus Christi, Texas and whose board members reside in Corpus Christi.
ABOUT KaBOOM!: KaBOOM! is the national non-profit dedicated to giving all kids – particularly those growing up in poverty in America – the childhood they deserve filled with balanced and active play, so they can thrive. Since 1996, KaBOOM! has collaborated with partners to build, open or improve nearly 16,300 playgrounds, engaged more than one million volunteers and served 8.1 million kids. KaBOOM! creates great places to play, inspires communities to promote and support play, and works to drive the national discussion about the importance of play in fostering healthy and productive lives. To learn why #playmatters and why cities are embracing #playability:visit kaboom.org or join the conversation at twitter.com/kaboom or facebook.com/kaboom.